O'gorman's takeaway food
Browse our full range and take the pressure off with a take-away
o'gorman's off licence store
Amazing Selection of Spirits, Wines & Chilled Beer
O'Gorman's Bar & Restaurant
Stone Baked pizza goodness
Our New Outside Dining area
If you enjoy open-air dining, Ogorman's is the place for you.
Welcome to The Home of Good Food, O'Gorman's Bar & Restaurant, winner of the Prestigious Pub of the Year & Best Food Award.
O'Gorman's Portlaoise caters for all your needs and special occasions. Extremely popular with both locals and tourists alike for eat-in or takeaway. You can enjoy an extensive menu from European Dishes, Authentic Woodfired Pizza, including top-quality steaks to Exotic Thai Cuisine. We only use 100% Irish beef and source all local produce, offering an excellent choice of menu and a selection of serving times to suit everyone, only the best at O'Gormans Pub.
Award Winning Off Licence
We stock an extensive range of craft beers and bespoke spirits. Superb range of wines, spirits and mixers. Delivery service also available from O'Gorman's Portlaoise.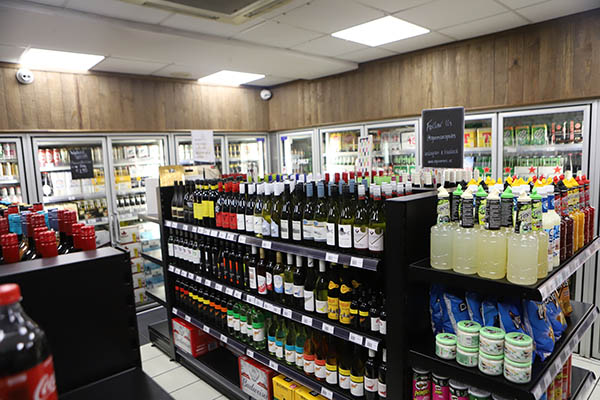 Order at your Table or Order a Takeaway? No Problem!
O'Gorman's Pub is fully equipped and ready for both indoor and outdoor dining. We have now opened our new outdoor dining area in Kilminchy which is completely sheltered with individual overhead heating for all tables and cubicles. Check it out, it really is exceptional and you are sure to have a great meal or night out.
New Outside Dining Facility!
Bright and airy with seperate cubicles O'Gormans pub now has facility for ourdoor dining. Seating up to six people with over head heating to keep you nice and warm. Perfect for parties or groups or events.
Wood Fired Pizza!! Delicious
For all you foodies out there you know that the pizza base is essential to get right for really excellent pizza. O'Gormans Pizza has a killer base, stone baked and wood fired loaded with toppings of your choice for the finest ingredients. Don't forget O'Gorman's takeaway pizza for a friday night treat.
What We Do Best at O'Gorman's
Breakfast is served daily from 10am -12noon in O'Gormans Kilminchy, outside of these hours Bar food with Dinner is served every lunchtime & evening at O'Gorman's Portlaoise the award winning Pub and Restaurant. There is ample room for 140 patrons but we maintain the nook and cranny warm atmosphere of a traditional Irish Pub and Restaurant. We can accommodate every event from family gatherings to those more intimate romantic encounters. Proprietor Donal and the staff are excellent hosts and diners return again and again for superb quality, value and service. Parking in our car park is free, so no stress, allowing patrons to relax and enjoy some hassle-free dining in a family-friendly atmosphere. There is a full Cocktail list ladies so don't be shy.
See More Of The Inside And Outside of O'Gorman's Portlaoise:
Hidden away in a residential area on the road out of Portlaoise towards The Heath/ motorway turn off. Very clean and well organised bar with top quality food way exceeding expectations. Impeccable service. Highly recommended.
Food is savage!! Garlic and Chilli chicken wings and chips are amazing. Great variety to choose from on main menu and kids menu. The lady who served our table could not have been nicer, I think her name is Mary. Plenty of seating and sanitizing stations. Cannot wait to return. Well done!!
The food Is lovely, the staff are friendly but a bit forgetful when asking for side orders, but dont let this turn you off, it's a busy place and they word hard, I love seeing Rebecca and Michelle, lovely ladies who always go the extra mile.. Thank You
Food was lovely it was my son's 30th birthday dinner and the staff were very friendly and could not do enough for us especially our server michelle who was very professional and a lovely person a very big thank you to all involved you made it a night to remember for us all but especially the birthday boy
Had a fabulous Sunday lunch, table had been been booked and was ready when we arrived. The staff were polite and very helpful. The food was very good ,portions were not small .only thing for me was my beef lunch was not hot enough, but I will definitely be back again. The cost for 6 was very reasonable
We just decided to try a walk in here of a Saturday evening with a party of 5 and were accommodated straight away. We had a lovely spacious area and the kids loved it. Meal was delicious from start to finish and every plate was cleared. Great sign when the kids are begging to go back! Very reasonable as well so great for family dining.
Great night out here, tried their new frozen cocktails and was very impressed. Highly recommend this place.
We've made a stop on the way out from MRH in Portlaoise. The burgers we ordered were absolutely delicious 🤤, French fries crispy and tasty too. What a treat!
Absolutely outstanding. Staff brilliant. Food so so good. Got the Korean pulled pork burger. Try this.
The staff were brilliant! So friendly and nothing was a bother to them! They made us feel very at ease, and took the time to interact with our 3 year old, which was much appreciated!
The food was every bit as lovely as the staff! An extensive menu that would suit everyone's tastes.
Would highly recommend! 👍